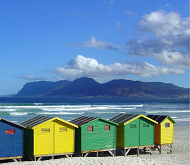 General Information
Seventh annual Clinic on Meaningful Modeling of Epidemiological Data
African Institute for Mathematical Sciences, Muizenberg, Cape Town, South Africa
May 30 - June 10, 2016
Return to the Main Page.
Return to the Schedule.
Arrival
For everyone
Please review this important information for visitors to AIMS and South Africa prior to arrival.
Most participants will be staying in the Empire Building, across the street from AIMS. Upon arrival at AIMS, one or more volunteers will be available in the lobby to answer any questions you may have and take you to your room.
For those arriving by air
Due to the number of arrivals, we will be arranging an airport shuttle schedule, and participants arriving at times close to each other will be put into groups for collection. On arrival, please make your way to Steers (a burger joint in the Central Terminal Building). You will be met there by an AIMS representative, who will be carrying an AIMS/MMED sign. Kindly review the arrival and shuttle schedule and take careful note of your pick-up time.
Please note that the shuttle will only operate at the specified times. You may choose to take a private shuttle/taxi from the airport, but please note that you will not be reimbursed for this expense.
If you have any trouble meeting up with the group (eg, due to a delayed flight), please call AIMS – from within South Africa, dial 021 787 9320 (calling from abroad, you will need to dial the international dialing code + 27 21 787 9320). This is the AIMS main exchange, and you should ask to speak to Igsaan, who is the Facilities and Logistics Manager. If you can't get through on this number, you can try Igsaan's mobile number (provided in Weekly Message #6) to report flight delays or arrival problems. You can also email arrival@ici3d.org at any time to communicate about your arrival details.
For those arriving by ground
All participants without a scheduled airport transfer should plan to arrive between 12:00 and 16:00 on Sunday (29 May), if possible.
When you arrive, please proceed to the AIMS lobby. If you have a car, you will be able to park it in the lot at the Empire Building, but be sure to let the volunteers who greet you know that you need parking.
Welcome and Registration
If you arrive before 16:00 on Sunday, you are welcome to come by the AIMS lobby between 12:00 and 16:00 to meet some of the MMED faculty and mentors and AIMS students and staff. One or more volunteers will be available in the lobby to answer any questions you may have during this time.
You must register in order to receive your welcome packet and name tag. There are two opportunities for registration:

If you arrive in Muizenberg on Sunday afternoon, please come to the AIMS lobby for registration between 17:00 and 18:00 on Sunday (29 May).
If you arrive after 18:00 on Sunday, please register on Monday morning (30 May). The registration table will be open from 8:00 - 8:25 on Monday.

The first session of the Clinic will start promptly at 8:30 on Monday in the main lecture hall (see schedule).
Ground rules
All MMED participants are expected to engage fully in the MMED program. This includes attending all MMED sessions (other than those designated as optional).
Please be aware that participants come from a wide variety of backgrounds and cultures. This diversity adds greatly to the MMED experience, and all participants should strive to create a welcoming, respectful learning environment.
All MMED participants should follow the AIMS house rules. Because all MMED students are guests of AIMS, these rules apply whether you are housed in AIMS accommodations or elsewhere (e.g., across the street at Whale Watchers or Surfers' Corner).
Laptop use will not be allowed in the lecture hall during lectures or discussions.
Muizenberg
The MMED Clinic is hosted by the African Institute for Mathematical Sciences (AIMS), which is located in the lovely beach town of Muizenberg, near Cape Town. The street address is

  6 Melrose Road
  Muizenberg 7945
  South Africa

Facilities
Meals are provided in the AIMS dining hall.

       Breakfast is served from 7:45 - 8:30.
       Lunch is served from 12:30 - 13:00.
       Dinner is served from 18:00 - 18:30.

Laundry facilities are available in the main AIMS building. There are washing machines and dryers. You will need to provide your own detergent. You can purchase detergent from Checkers (see map) or bring your own from home.
Wireless internet access is available throughout the main AIMS facility. To connect to the network with your personal computer, you will need to register your computer with the AIMS IT staff. There is time scheduled for this on the first day of the Clinic. Wifi is also available in the Empire Building if you are willing to pay for it.
Things to bring or buy
If you are coming from abroad and bringing any electronics with you, you will need appropriate electrical converters and plug adapters. Phones and computers (and some digital cameras) usually come with a converter. Plug adapters can be purchased at the Pharmacy (see map). If you would like to purchase adapters before you arrive, you can use any of the plug types described on this page at AIMS. We recommend purchasing grounded adapters if you have the option.
SIM cards for mobile phones (GSM only) can be purchased at the airport or at Checkers (see map). South Africa has strict regulations for registration of SIM cards so you'll need to bring proof of identity (passport) and proof of address (your apartment or AIMS keys and any printed letter of invitation to the workshop should suffice).
Note that there is no indoor heating at AIMS and no central heating in the Empire Building. We recommend bringing warm sleepwear as it can get quite chilly at night.
Tips for those staying in the Empire Building
If your kitchen sink isn't draining, open the drain by pressing down on the drain plug and releasing.
You can enter the building through the parking garage, which is across Melrose Road from AIMS. Use the disc on your key ring to open the gate.